Monstrorum Historia, p. 113
Edit
Latin original
Edit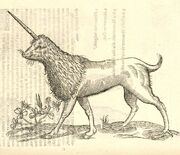 Amplius aliud animal aquatile, & quadrupes non est omittendum, quod in vna Moluccarum insularum viuit, Camphurch vocatum, vt testatur Theuetus, referente Pareo. Hoc magnitudine Ceruum acquam, cornu gestat in fronte mobile, fere instar cristæ galli indici, trium pedum longitudine, & aliquando ad crassitudinem humani brachij accedens. Cetuicem pilis cenerei coloris habet tectam. Pedes posteriores anserinis habet similes, quibus ad nandum in aquis dulcibus, & falsis vtitur. Pedes autem anteriores ceruinis sunt assines. Piscibus victitat. Plerique sibi persuaserunt hoc animal Vnicornis esse speciem, & pro pterea cornu aduersus venena habere efficax. Rex Insulæ, Theueto teste, huius Feræ nomine insigniri gloriatur.
English translation
Edit
External links
Edit
Ad blocker interference detected!
Wikia is a free-to-use site that makes money from advertising. We have a modified experience for viewers using ad blockers

Wikia is not accessible if you've made further modifications. Remove the custom ad blocker rule(s) and the page will load as expected.